U.S.S. Allen M. Sumner DD-692
1969 NATO Review
In May 1969, the Sumner participated in the 20th Anniversary of NATO with a review by Queen Elizabeth II aboard The Royal Yacht Britannia along with ships of many other nations.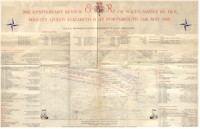 The ships, the route and the commanders
The Queen and The Duke of Edinburgh

The Royal Yacht Britannia
The souvenir newspaper with the sections mentioning the Sumner

A more summarized view of the Royal Yacht's course through the fleet
Many thanks to Liz Hedenberg for sending these items of Sumner history to us.