U.S.S. Allen M. Sumner DD-692
The 2009 Reunion - Reunion 21
30 Apr - 3 May 2009 - Holiday Inn Select, San Antonio, Texas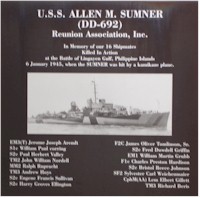 The Sumner Memorial Plaque at the National Museum of the Pacific War
At Fredericksburg, Texas
Hello Shipmates, Ladies & Friends.
Hello, gang. What a great time we had in Texas. For those who were there, I don't need to elaborate. For those who were NOT, you missed a great time. Everything was great, even the weather was nice; we beat the real hot weather, by going early.
We had our Memorial Ceremony at the ADM Nimitz Museum of the Pacific - very nice place, a lot of history there. We also had the Sumner plaque dedication. Charles Blackburn, our only plankowner present, unveiled the plaque with the help of Bobby Moore. A very touching moment!
Joe Gall
Everyday
The Hospitality Suite
The Smoking Lounge
Fine eating within easy reach
Friday, May 1, 2009
Touring the City
Friday, May 1, 2009
The Annual Banquet and Awards Ceremony
Saturday, May 2, 2008 - The Memorial Service
Fredericksburg, Texas
Planes, friendship, ceremonies and home again !
The Crews
Many thanks to George Aichele, Don Hayden, Carla Cawlfield, Bob & Gloria Kelly, Colin & Bev Benporath, Pete & Gail Dromms and Pete & Rita Hart for sharing their photos with us.
Sailing List
Joe & Dottie Gall (EM3 61-63)
Colin & Bev Benporath (SAC2, RAN 67)
Dave & Lee Robson (SH3 66-70)
Frank & Connie DiBello (RM3 66-68)
George Aichele (SK2 66-69)
Charles Blackburn w/Mark & Donna Blackburn (SM2c 44-46)
Steve Dzuranin w/Naomi Lucaric (S1c 45-46)
Bruce & Earlene Fulbright (SN 60-64)
Pete & Rita Hart (BT3 65-67)
Earle & Elizabeth Hedenberg (EM1 68-71)
Ron & Ricki Jovanovich (AN 68-69)
Bob & Gloria Kelly (EM3 68-71)
Bob & Theda Laighton (CDR (CO) 70-71)
Charley & Dicksie McManus (Y2 46-47)
John Reader w/ Sue Claeys & Dick Green (SN 69-70)
Earl & Jan Taylor (TM3 66-69)
Harold "Hash" w/Sue Jackson (MM2 51-55)
Larry Conely (TM2 61-63)
Pete & Gail Dromms (FTG2 66-67)
Bob & Karen Haderer (BT2 63-68)
Wes & Reigh Ritchie (MM3 59-63)
Darrell & Shirley Sigmon (BT2 52-56)
Sal & Rose Zaita (F1c 45-46)
Wiley & Juanita Boland w/Deedy Boland (HMC 65-67)
Terry & Kiyoko Conaway (BT1 65-70)
Kelly Brown w/Carla Cawlfield (EM2 66-68)
Jim & Elaine Armstrong (USAF)
Ted & Kandy Cooper (BT2 63-66)
Merlin Fenelon and Marian Miller (SM3c 45-46)
Bill & Jocelyn Juzwiakowski (TM3 61-63)
Paul & Lee Rosskamp (BT3 68-71)
Ed & Joan Stephens (GMSN 62-64)
Norm & Pamela Charette (CS3 51-54)
Jose & Faith Garcia w/ Knoxie & Constance Lewis(BT2 65-68)
Bobby & Mary Moore (MMC 61-69)
Jeff & Terry Clevenger (FT3 53-54)
Jim & Karen Frederickson (ETN2 66-67)
Don Hayden (TM3 61-62)
Ed & Mary Eidt (FCSN 47-49)
Maurice & Tricia Warren (EN3 66-68)
A.J. & Betty DeJongh (BT3 65-69)
Gerald Williamson (FN 69-71)
Don & Diane Valentine (SOG2 58-61)
Dale Surber (EN2 68-71)
Gene & Vickie McManus (S1(SKD) 46-47)
Bernie & Vickie Armstrong (FN 68-70)
Bob Kearns (FTG2 66-68)
Howard & Judy Good (MM3 61-63)
Fred Willshaw (SK1 67-69)