U.S.S. Allen M. Sumner DD-692
22nd Annual "All Hands" Reunion
May 6 - 9, 2010 - Holiday Inn Pensacola, Florida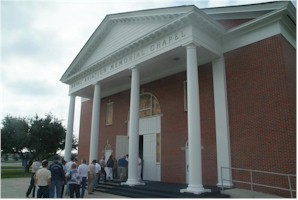 Naval Aviation Memorial Chapel
Pensacola, Florida
Hello Shipmates, Ladies & Friends,
If you missed Pensacola, you missed a great reunion. What a super time we had. Friday's tour was just great. We had 2 tour boats, and about 75 of us had a wonderful 3 hour cruise around the harbor. We saw all the sights to be seen, and a number of dolphins. Our tour guide was very informative and interesting.
The Memorial Service on Saturday morning was, as usual, very moving. We remembered all of Sumners' fallen heroes KIA, and all those since, spouses as well. Chaplain Breck Bregel USN was part of our ceremony, and we thank him for that.
After the ceremony, we went to the National Aviation Museum--what a place. VERY interesting. We spent a few hours there, and barely scratched the surface of what was to be seen. What a great job they have done in putting it together. If you are ever in the Pensacola area, do yourself a favor and visit the museum.
Joe Gall
Everyday
The Hospitality Suite

Wednesday, May 5, 2010

The Blue Angels performed for the Early Birds


Everyday
Some of the gang made it to the beach (without the oil slick!)



Friday, May 7, 2010
The Harbor Cruise



Friday, May 1, 2009
The Annual Banquet and Awards Ceremony



Saturday, May 8, 2010 - The Memorial Service
Naval Air Station Pensacola, Florida



On to the Naval Air Museum

The Crews

| | | |
| --- | --- | --- |
| | | |
| The 1940's Crew | The 1950's Crew | The 1960-1964 Crew |
| | | |
| | |
| --- | --- |
| | |
| The 1965 - 1969 Crew | The 1970's Crew |
| | |

Many thanks to Don Hayden, Kelly Brown & Carla Cawlfield and Pete & Rita Hart for sharing their photos with us.
Sailing List
Joe & Dottie Gall (EM3 61-63)
Frank & Connie DiBello (RM3 66-68)
John & Judy Barry (DC2 65-69)
Terry & Kiyoko Conaway (BT1 65-70)
Larry Conely (TM2 61-63)
Peter & Gail Dromms (FTG2 66-67)
Steve Dzuranin w/Naomi Lucaric (S1c 45-46)
Bruce & Earlene Fulbright (SN 60-64)
Harold Jackson w/Suzanne Jackson (MM2 51-55)
Steve Krajcik w/Frank Krajcik (TM3c 44-45)
Don & Diane Valentine (SOG2 58-61)
Bob & Gloria Kelly (EM3 68-71)
Ike & Doris Redmon (MM2 59-63)
Norm & Pamela Charette (CS3 51-54)
Walt & Lorraine Meierdierks (FN 49-53)
Paul & Lee Rosskamp (BT3 68-71)
Frank & Joan Castaldi (S1c 44-46)
George Aichele (SK2 66-69)
Jim & Elaine Armstrong (USAF)
Sal & Rose Zaita (F1c 45-46)
Bernie & Vickie Armstrong (FN 68-70)
Merlin Fenelon w/Marian Miller (SM3c 45-46)
Bobby & Mary Moore (MMC 61-69)
Dave & Lee Robson (SH3 66-70)
Aleta Walters w/Dan & Ruth King (Charles wife MM2 61)
Bill & Joan Wunderlin (EM2 52-55)
Ted & Kandy Cooper (BT2 63-66)
Wiley & Juanita Boland w/Deedy, Wiley Jr & Mary Ann, Mary Odom, Bobby, Paige & Avery Johnson (HMC 65-67)
A.J. & Betty DeJongh (BT3 65-69)
Paul & Meryl Delasco (IC2 61-63)
Earle & Elizabeth Hedenberg (EM1 68-71)
Dennis Carroll (LTJG 65-66)
Pete & Rita Hart (BT3 65-67)
Bill & Jocelyn Juzwiakowski (TM3 61-63)
Kelly Brown w/Carla Cawlfield (EM2 66-68)
Bob Duffield w/Dale Moore (FTG2 64-66)
E. C. "Gator" Russell w/Ellen & Phil Hanrahan (S1c 1944-1945)
Don Hayden (TM3 61-62)
Ed Williams (MM3 58-61)
Gerald Williamson (FN 69-71)
Michael Fulton (ENS 64-66)
Maurice Warren (EN3 66-68)
Darrell & Shirley Sigmon (BT2 52-56)
Bob & Karen Haderer (BT2 63-68)
Dale Surber (EN2 68-71)
Jim & Karen Frederickson (ETN2 66-67)
Earl & Jan Taylor (TM3 66-69)
Dan Coli (SA 66-69)
Clarence Clements w/Ken Clements (COX 44-46)
Charley & Dicksie McManus (Y2 46-47)
Wayne Singleton (MM3 63-70)
Walter Spillman (SFP3 65-68)
Wes & Reigh Ritchie (MM3 59-63)
Eric & Shirley Bollin (EM3 66-68)
Jose & Faith Garcia (BT2 65-68)
Fred Willshaw (SK1 67-69)