U.S.S. Allen M. Sumner DD-692
29th Annual "All Hands" Reunion
May 7-10, 2017 at Hampton Airport Inn and Suites, Jacksonville, FL
Memories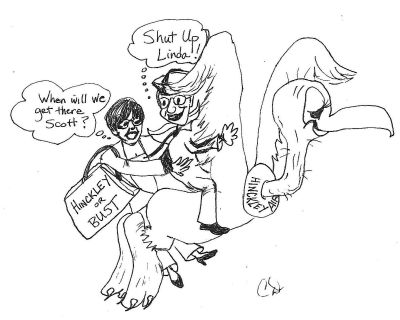 Cartoon of Scott & Linda's adventure by Connie DiBello
Greetings to all,    The 2017, 29th Reunion held 5/07/17 - 5/10/17 held in Mayport, Florida has come and gone.  Thank you to all of the first timers.  We hope to see you next year in Savannah, Georgia! Thanks to our hosts, Dave and Sue Robson.  The Hampton Inn will never be the same.  The Memorial Service at the base chapel was memorable.  The base speakers were very informative.  It is amazing how much the base has changed!    I want to thank our Sumner Ladies for all their help.  Thanks to Dave Robson for getting our base speakers and to Don Hayden for our banquet speakers.  Thanks to Jim Frederickson for ringing the Ship's bell at the Memorial Service.    Thank you Karen Harderer, Mary Moore, Rita Hart and Connie for making the registration desk run smoothly.  Thanks to Rita Hart, Karen Harderer, and Gail Dromms for running the Silent Auction and the Ship's Store.    I especially want to thank Pete Dromms for all the hard work he does managing all the Ship's Store Inventory and makes it all come together so well.  Also for storing and transporting all the Ship's Store items and all of the other items necessary for these reunions.  Thank YOU Gail Dromms, for helping round up all the last minute important things that make these reunions run smoothly.  As well as giving Pete moral support!    Thanks to Sue and Dave Robson, Dale Surber, Connie, and everyone else that kept the Hospitality Room running smoothly.    Thanks to all who participated in the 50/50 Ticket Drawing, "Help A Shipmate Fund" especially Bernie Armstrong and Dale Surber for doing the "leg work"!  We had a First-Timer win the drawing, and in true "Sumner Spirit" he donated his winnings back to the fund for a total of $274.00 to the fund.    Special thanks to the Hruska's for the special handmade Live Auction items.  You can tell they put lots of time, talent and love into making them.  Thank you, Aleta Walters for your beautiful, patriotic handwork.  All of you are so talented!    Thanks to our founder, Chief Joe Gall for appearing and sharing words of wisdom at our 29th Annual Reunion.  Best Wishes to you and Susan as you sail into the new seas of life.    Congratulations to John Hruska, New Director and to Pete Dromms, Master-At-Arms.    Thanks again to all that helped in this Reunion! If I forgot to mention anyone, please accept my apologies. See you all in Savannah, in 2018!

Frank DiBello
The Hampton Inn & Suites


The Main Entrance

The Lobby

The Hospitality Suite
Terry & Kiyoko Conaway and Betty DeJongh planning their bids for the silent auction

Jose Garcia and Pete & Rita Hart getting ready to go somewhere
AJ DeJongh and Faith Garcia waiting for more food
Dave Robson, Colin Benporath and Frank Dibello watch Pete Dromms as he does his guppy impersonation

Dave Robson, Pete Dromms and Frank Dibello watch as Colin Benporath cries in the background

Millie & Joe Drabick are up to no good again
John & Pat Hruska look guilty to me
Sharon Price and Liz Hedenberg looking forward to our ship tour

The President of Hinckley Air
Bernie Armstrong asking for donations for his airfare
Dale Surber and Dan Barrs trying to figure out Colin Benporath's version of English

Okay, now everybody put their heads on their hands

Rita Hart and Bob & Karen Haderer planning the Silent Auction
Our duty Aussie, ready to go
Bruce & Earlean Fulbright celebrate their 50th wedding anniversary

I don't think Dan & Lynette believe Frank

Now it's Joes turn
Time to go home, it's empty
Bruce & Earlean Fulbright
Frank holding Court

"AJ" rolling his own
Phil Maxwell
Ken Merryman
Jim Frederickson Explaining the Theory of Relativity

Karen has heard enough !
Frank is still going !
What did I say ?
Paul Stebbins and Dave Robson

Joe doesn't believe what he is hearing
Here comes Bob !
Mess Cooks
The Haderers get a kick out of Pat

John & Pat Hruska
Pete & Rita Hart
"AJ" & Betty DeJongh
Judy & John Barry

Bob & Gloria Kelly
Ethel & Mike Backer
Louise Jasch, Mary & Bobby Moore
Lynettet & Dan Barrs

Colin Benporath
Millie Drabick & Sue Robson
Walt Spillman
Cliff Selig explaining to Colin the US Navy

John Randall
Aleta Walters
Jon & Colin
A good laugh

Paul Rosskamp dreaming of the old days
Jose Garcia
Lee Rosskamp
Touring Florida - St. Augustine
The Memorial Service - Monday May 5 2017
Waiting for the bus


The Base Chapel



The Memorial Service



Gloria Kelly and Frank DiBello search for number 16
Frank begins the Ceremony
Mayport Naval Station Public Affairs Officer
Frank & Gloria getting their ducks in a row
Jim Frederickson rings the Memorial Bell
The Ladies read the names of those lost at Ormoc Bay
Passing the Memorial Wreath
Banquet & Awards - Monday May 5 2017
50th Anniversary Plaque of the Vietnam Deployment

Allen Anderson
Mike Backer
Bob Haderer
Pete Hart


John Barry
"AJ" DeJongh
Joe Drabick
Pete Dromms


Scott Kopfstein
Walt Spillman
Jose Garcia
Gary Mayfield


Ken Merryman
Hank Pelz
Jon Randall
Dave Robson


Frank Embrey
Colin Benporath
Bobby Moore


Dave is awarded a new telephone from Toys-R-Us
Is Scotty really trying to egg on Kenny, WRONG !
The Anniversary Cake
Joe Gall tells the story of the Association
oys
The gang getting ready to head home
Bill Wunderlin teaching us to fly
What in the world does Bill have in his hand
Where is the food ???


The Crews


Many thanks to Bob & Karen Haderer, Frank & Connie DiBello, Pete & Gail Dromms, Jon & Marie Randall and Don Hayden for sharing their photos with us.
Sailing List
Gerald Williamson with guest Brian Williamson (FN 69-71)
Bruce & Earlean Fulbright (TM3 62-64)
Hank & Julie Pelz (BTC 62-67)
Dean & Sharon Price (RD2 66-69)
Frank & Connie DiBello (RM3 66-68)
Dave & Sue Robson (SHL3 66-70)
John & Pat Hruska (MR3 68-71)
Aleta Walters (wife of Charles MM2 61-62)
Pete & Gail Dromms (FTG2 66-67)
Joe & Millie Drabick (BT3 65-68)
Robert & Gloria Kelly (EM3 68-71)
Bill & Joan Wunderlin (EM2 52-55)
AJ & Betty DeJongh (BT3 65-69)
Francis Embrey (RM2 64-68)
Clifford Selig (SN 66-68)
Bob & Karen Haderer (BT2 63-68)
Jon & Marie Randall (RDSN 66-69)
Clyde Hightower (GMG1 64-65)
Scott & Linda Kopfstein (SK3 66-69)
Gary & Barbara Whitehead (YN3 66-69
Don Hayden (TM3 62-63)
Paul & Lee Rosskamp (BT3 68-71)
Bobby & Mary Moore w/Louise Jasch (MMC 61-69)
John & Judy Barry (DC2 65-69)
Ken Merryman (STG3 66-70)
Ron & Ricki Jovanovich (AN 68-69)
Pete & Rita Hart (BT3 65-67)
Michael & Ethel Backer (RD2 66-69)
Terry & Kiyoko Conaway (BT1 65-70)
Walter & Jane Spillman (SFP3 65-68)
Colin Benporath (SAC2 67)
James & Karen Frederickson (ETN2 66-67)
Paul Stebbins (SFP2 68-71)
Ray & Liz Hedenberg (EM1 68-71)
Gary & Ann Mayfield (SK2 66-69)
Bernie & Vickie Armstrong (FN 68-70)
Philip & Deborah Maxwell (ICFN 52-53)
Jose & Faith Garcia (BT2 65-68)
Joe & Susan Gall (EM3 61-63)
Dan & Lynette Barrs (QM2 63-68)
Fred Willshaw (SK1 67-69)