U.S.S. Allen M. Sumner DD-692
Decommissioning
Radio message from the CNO's Office directing the Decommissioning and Scrapping of the Sumner and 4 other destroyers.
(Thanks to the Naval Historical Center at Washington Navy Yard for preserving this piece of our history)
Radio message from the CNO's Office that Sumner is to become a Memorial and Sea School in Baltimore, Maryland.
(Thanks to the Naval Historical Center at Washington Navy Yard for preserving this piece of our history)
What is probably the last radio message from the Sumner announcing her decommissioning.
(Thanks to the Naval Historical Center at Washington Navy Yard for preserving this piece of our history)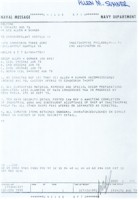 An invitation from Captain Bresnahan to attend the decommissioning ceremonies thanks to Ron Reeves.

The Decommissioning Program for Sumner's retirement August 15, 1973.
(Thanks to the Naval Historical Center at Washington Navy Yard for preserving this piece of our history)
| | | | |
| --- | --- | --- | --- |
| Cover Page | Day's Program | History - 1 | History - 2 |
| | | | |
| History - 3 | History - 4 & Awards | All the Captains | Final Crew |
| | | | |
What probably happened to her?
HTC Ron Reeves (Ret) worked at the Philadelphia Navy Yard and made the following comment on what happened to ships like the Sumner. He said, "Don't have anything on actual scrapping as it seems the scrap yards do not like to divulge info after they get the ship, in fact most will not let you go there and take pictures. Probably sent the steel to export, and the machinery to surplus sales as many foreign navies had this class of ships, and a lot of material went back to Navy inventory for reissue. The reduction gear went back to GE, as the Navy does not own them and most of the other big stuff was cut up like the boilers, FDB's main condensers, etc. that couldn't be sold. In some junkyard there might be bits and pieces somebody bought."
Do you have access to any Decommissioning documents or pictures from the Sumner for August 15, 1973
If so, please let us know with an e-mail today!