U.S.S. Allen M. Sumner DD-692
Engineering Watch Logs
Ed Zajkowski who served aboard the USS Keppler DD-765 as an EM3 and is currently a Restoration Coordinator and the Material Acquisition person on the USS J. P. Kennedy (DD-850) restoration sent in the following set of Engineering Watch Logs forms that were the same as those used aboard the Sumner.
Daily Sounding Data Sheet
DesLant Form 9880-1
Electrical Log - Ship's Service Electrical Plant
NavShips 3649
Engineer's Bell Book
NavShips 116
Fireroom Check-Off List - For Lighting Off, Cutting In
DesGen Form 9510-4
Fireroom Check-Off List - For Securing Boilers
DesGen Form 9510-5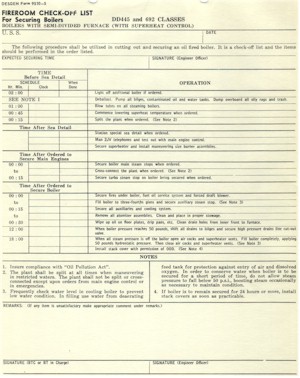 Engineroom Warming-Up Schedule
DesGen Form 9410-10
Engineroom Securing Schedule
DesGen Form 9410-11
Many thanks to Ed for taking the time to supply us with these pieces of Sumner history.