U.S.S. Allen M. Sumner DD-692
The Final Goodbye
The following is the "For Sale" Request for Bids brochure for the Sumner and four other destroyers that was forwarded to us by Ron Reeves HTC (Ret.). All of you "SNIPES" will enjoy viewing pages 3 to 6. If you are really interested, we suggest you complete the bid sheet on page 11.......
Banner Page
The 692
The main engineering equipment included in the sale
Conditions of Sale - Combatant Vessels
Make your bid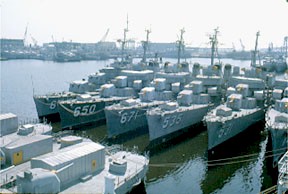 Philadelphia Naval Inactive Ship Maintenance Facility 30 July 1974.
Outboard is the 692, with the CAPERTON (650), GATLING (671), JAMES MILLER (535), HAZELWOOD (531) and CASSIN YOUNG (793).
As the Sumner neared her date with decommissioning there were many administrative and physical chores to be done in bringing her service to an end. Here are two radio messages from Ron Reeves giving an idea of some of these many areas that were being addressed.
Displayed below are several pages covering the sale of the Sumner to Union Minerals & Alloy for the paltry sum of $163,132. Norm Ostroy sent us a copy of the message establishing the security crew and a copy of his orders. The Navy bid the Sumner farewell for the final time at 0935 on December 6, 1974. Thanks to the Naval Historical Center at Washington Navy Yard for preserving these pieces of our history.
The successful bids
The Last Crew (Security)
Sumner leaves the US Navy
GMGC William R. Littleton
MM1 Edward J. Palmer
EM2 Stanley J. Zamber
STG2 Thomas P. Sledz
ETR3 Timothy M. O'Brien
TM2 Franklin V. Hickman
MM3 Norman F. Ostroy
MMFN Morgan D. Smith
Do you have access to any pictures, documents, etc. of the Sumner after she was sent for scrapping?
If so, please let us know with an e-mail today!