U.S.S. Allen M. Sumner DD-692
Ship's Manuals
While we think of the Sumner as a ship ready for combat she was also a floating technical library. During the Sumner's 8 1/2 years at sea she could not phone a local repair service to fix whatever was not working properly or even ask questions. Therefore, the crew had to be able to make repairs and do maintenance on their own. Each piece of equipment had a manual of operating procedures, maintenance, schematics and parts lists. All the administrative offices also relied on manuals to perform their functions. While not a machinery space the Supply Office, for example, lived by the guidelines and rules laid out in the BuSandA and NavComp manuals and the parts lists included in the FOCSL, COSAL, ERPAL and many other documents. Our friend Ed Zajkowski recently had the chance to view many of these old manuals and sent along some samples for you to enjoy.
(CLICK ON THE DOCUMENT TO VIEW OR SIMPLY SCROLL DOWN TO SEE THEM ALL)
Ship's Service and Emergency Distribution Systems
by Gibbs & Cox, Inc. - 1944


Turbine Driven High Pressure Air Compressors
by Worthington Pump & Machinery Corp. - 1941


Emergency Feed and Fire & Bilge Pumps
by Naval Sea Systems Command - 1975
Foam Generator (Carbon - Dioxide) System
General Notes

Soloshell L. P. Distilling Plant
By Griscom-Russell Company - March 1, 1942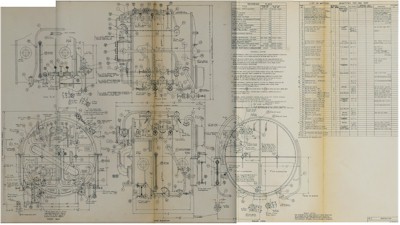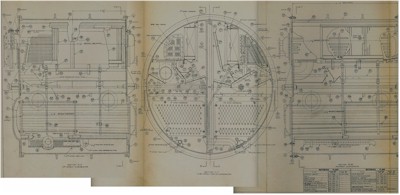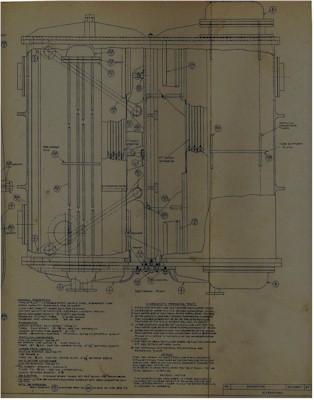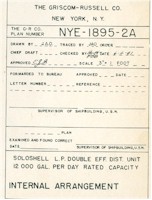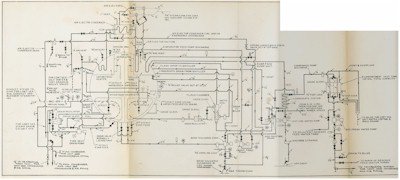 Operation Manual
Main Propulsion Plant
DD445 and DD692 Classes



Arrangement of Machinery


Upper Level - Forward Plant


Arrangement of Machinery




Lower Level - Forward Plant

Arrangement of Machinery




Upper Level - After Plant

Arrangement of Machinery




Lower Level - After Plant

Condensate System
#1 Engine Room

Condensate System




#2 Engine Room




Fuel Oil Transfer System
Sequence Table for Emptying Fuel Oil Tanks
Forward Generator and
Distribution Switchboard


Babcock & Wilcox Single-Uptake


Controlled-Superheat Marine Boiler


After Generator and


Distribution Switchboard

Main Lubricating Oil Piping
#1 Engine Room

Fuel Oil Tank Arrangement

Fuel Oil Tank Ballast System
Okay, so now that you have it all memorized it's time for the weekly quiz. See how well you do and no cheating !!!
Operation and Maintenance of Condensing Equipment
DD-692 Class
(Main & Auxiliary Condensers/Main & Auxiliary Air Ejectors)
Cover pages and Introduction

Main Condenser

Machinery Painting Schedule
DD-692 Class
Gibbs & Cox, Inc. - July 17 1943
Fry Kettle - Type 90
Hotpoint Co. - General Electric
Steam Jacketed Kettles
Legion Utensils - September 11, 1952
Electric Oven - Type 125
Hotpoint/General Electric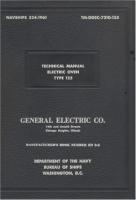 Federal Supply Catalog - NAVY
Management Data List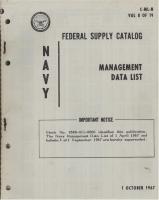 Okay all you model makers out there, here is your chance to get those much needed parts to complete your project. Included are the stock numbers and prices for such handy items as whale boats, propellors, 5"/38 Gun Mounts and spanner wrenches !!
Do you have any manuals from those Sumner days? We are looking for almost any type including 3&2, 1&Chief, FOCSL, etc.
Let us know.