U.S.S. Allen M. Sumner DD-692
Mediterranean - August 1970 to March 1971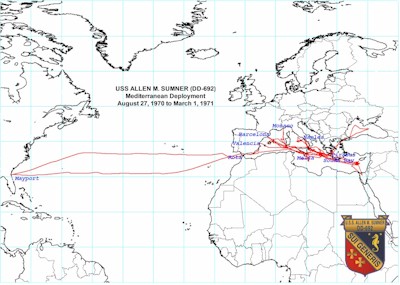 Track Chart of the entire 1970-1971 Deployment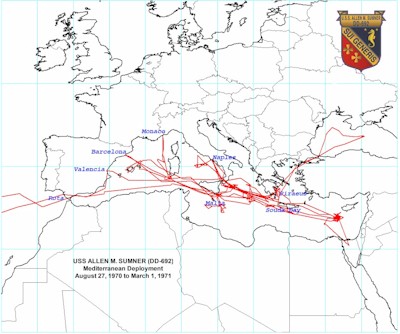 Up close view of the Mediterranean track chart section of the 1970-1971 Deployment
The Official Ship's Deck Log for 1970
Captain Laighton's Photo Collection
Tom Schwartz's Photo Collection
Dale Surber's Photo Collection
Sumner departed Mayport for her last Mediterranean deployment on August 27, 1970 arriving in Valencia, Spain on September 7. As part of TG 60.1 she operated on "Bravo" Station with the USS Saratoga (CVA-60). In mid September TG 60.1 made a high speed transit of the Mediterranean to join TF 60 in the Eastern Mediterranean during what was known as the Jordanian Crisis. She received her second Meritorious Unit Citation for her actions in this Crisis. On September 24 SUMNER gained sonar contact and conducted hold down tactics on a Soviet "N" Class submarine for 12 consecutive hours. Sumner was commended by Commander Destroyer Squadron FOURTEEN for a job well done in prosecuting the contact.
On the 29th she participated in a Presidential Fleet Review for President Nixon at Naples, Italy. This was followed by a visit to Suda Bay, Crete and then joining TG 60.3 and 60.1 operating with the USS John F. Kennedy (CVA-67). On October 26 anchored at Athens, Greece where a Personnel and Material Inspection was conducted by COMDESRON 14. Then followed operations with TG 60.2 and followed by anchoring at Navplion, Greece. On November 20 she returned to Naples prior to Black Sea Operations with TG 68.1. In December, Sumner visited Athens, Naples, Palma de Mallorca and Monaco. While in Monaco Sumner welcomed Princess Grace, Prince Albert and Princess Stephene for an informal visit.
On January 6, 1971 she departed for Valetta, Malta operating with the USS Independence (CVA-62) and underwent an inport ORI on the 20th. On the 29th she arrived at Barcelona, Spain where she celebrated Sumner's 27th birthday. On February 1st she departed with TG 67.6 and operations with the USS Wasp (CVS-18) arriving in Rota, Spain on the 21st. The 28th found Sumner enroute home to Mayport arriving on March 1st.
Do you have any stories, photos or memorabilia of the cruise? If you do, please let us know