U.S.S. Allen M. Sumner DD-692
Memorial Ceremony - September 2000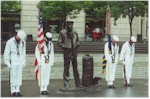 The USS Allen M. Sumner held her 12th annual reunion Memorial Ceremony in September 2000 at the U. S. Navy Memorial in Washington, DC. Prior to the event, our shipmate Dan Coli contacted Commonwealth Public Broadcasting Corporation in Richmond and asked if they would like to cover the event. The staff from their series, Virginia Currents, filmed the ceremony and produced a beautiful segment that is presented here for all to enjoy. Included in the piece are portions of the address made to us by the Chief of Naval Operations, Admiral Vern Clark, and U.S. Navy Chaplain Captain Cooper's prayer. You will also hear the voices of many of our shipmates (Joe Gall, Jeff Clevenger, Steve Krajcik, Jesse Marney, Gene McManus, Bob Misiano, Dan Coli, David Holland, Bernie Goodman, Frank Castaldi, etc.) who were in attendance on this dreary but beautiful day. Playing time is 6 minutes and 42 seconds.
This film is presented with the courtesy of Virginia Currents © produced by Commonwealth Public Broadcasting Corporation, 23 Sesame Street, Richmond, Virginia. Many thanks and a Bravo Zulu to May-Lily Lee (Host), Shawn Freude (Producer), John G. Warner (Producer Videographer) and Lauralee Adams (Editor) for all their hard work.
In order to view this film on your computer you must have the Real Player program installed on your PC. If you do not as yet have the software, it is available free by going to http://www.real.com. When you have reached the site you will find an entry on the screen which states "Free RealOne Player", click on this item and then follow the instructions to load it on your hard disk. Some of you may have to upgrade your current Real Player software to a newer version. This software was used as the total size of the traditional AVI file is in excess of three billion bytes and an MPEG file in excess of 68 million bytes both being beyond what our site can process at this time. The result of this trade-off is a reduction in video quality. A normal VHS tape uses 30 frames per second to deliver the picture to you, the Real Player format only uses 7. If anyone is interested in receiving a high quality copy on CD please contact me.
Click here to play the Virginia Currents© Sumner Memorial Ceremony