U.S.S. Allen M. Sumner DD-692
Newspaper Clippings
Clipping from the front page of the Staten Island (NY) Advance of July 6, 1967. This photo appeared nationwide in many major newspapers.



Clipping from the Mayport Mirror of October 5, 1967 as the Division Commodore presents Captain Beaman the Bronze Star. Thanks to Jan Tenhoeve.


Clipping from April 1967 of Sumner's Operation Sea Dragon Activities thanks to Pete Hart.


Clipping from September 1947 on Sumner's visit to Apra Guam.
Note that Captain Edrington's name is incorrectly spelled Furington.
Thanks to Frank Bearese.
Clipping from Statesville, NC May 26, 1997 of an interview with Jim Lambert and Paul Jurney covering WWII service on the Sumner.


Clipping from San Francisco October 8, 1953 as Division 161 heads home from Korea. Thanks to Don Smith.

Clipping from January 1960 reporting Sumner's 16th birthday in GITMO.
Thanks to "Larry" Sheppard.

Clipping from Dec 15, 1943 when Sumner was launched.

Clipping from the Navy Times Jun 7, 1961 as Sumner began her FRAM II conversion. Thanks to Ron Reeves.


Clipping from the New York Times with first public picture of a Sumner Class Can.

Clippings from The Albany, NY Times-Union May 18, 1951 on Sumner's Armed Forces Day visit. Thanks to Don Marion.


Clipping from the Honolulu Star-Bulletin September 28, 1953. Thanks to Don Smith.


These two clippings are from the Norfolk newspaper, October 26, 1953 as Sumner arrived back from Korean Duty. Thanks to Don Smith.

The Mayport Mirror of March 4, 1971 as Sumner returns from her last deployment thanks to Mike Raatjes.




August 2 1968




from the 1964-1965 overhaul




A mystery from 1965

Charleston Naval Shipyard News clippings thanks to Robert Hall.

Mayport Mirror of January 25, 1963 celebrating Sumner's 19th Birthday,
thanks to Paul Delasco.

Pete, Sam and Jose head for Pete's house and a break
from the rigors of the sea.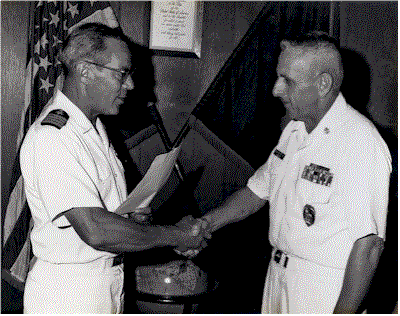 NATTC: BEHIND THE SCENE
Naval Air Station, Jacksonville, Florida – EMC John E. Williamson, NATTC Chief Master-at-Arms, received the Combat Action Ribbon and a citation in the Captain's office Friday morning. Chief Williamson, who has been aboard NATTC since December 1968, was awarded the Citation for his excellence in carrying out his duties aboard the USS Allen M. Sumner (DD-692 ship was engaged in battle in Vietnam. "In spite of extended at-sea periods, long working hours, and adverse and hazardous conditions, including being taken under fire by the enemy on 12 different occasions, Chief Williamson's performance on duty was outstanding." These "adverse and hazardous conditions" occurred while the Sumner was engaged in destroying and damaging 107 waterborne logistics crafts, 10 trucks and two bunkers, 16 buildings, rescuing one U.S. Air Force pilot at sea, and conducting 91 underway replenishments without a mishap
Thanks to the Chief's daughter Janis C. Smith for forwarding the photo and transcript.

Be sure and visit Captain Laighton's Scrapbook and Mike Raatjes Collection for more clippings.

Do you have clippings about our ship that you would be willing to share?
Please let us know with an E-Mail today!