U.S.S. Allen M. Sumner DD-692
Other 60's & 70's Photos

Sumner on Operation Sea Dragon as seen from the HMAS Hobart (D39)
Photo by Bevin Stringer, the Hobart's photographer. You can see more of his photo story of the Hobart's deployment at
http://home.iprimus.com.au /bevinstringer/


Sumner entering Rotterdam, The Netherlands in 1969
From Bill Gratza's collection

Sumner as she appeared in the Spring of 1968 before entering Charleston Navy Yard for overhaul.
This photo is from the Jan-Mar 2006 issue of Tin Can Sailors Newspaper and is an example of the photos
you may now purchase from TCS under their new program.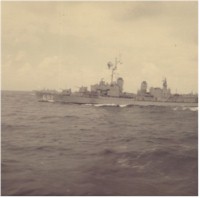 As seen by Jerry C. Karlik from the USS Farragut (DLG-6) during operations between Cuba and Puerto Rico in 1968.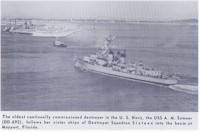 A view from 1961 of Sumner entering Mayport, with the fireboat in front this may be
from when she initially changed homeport from Norfolk. Thanks to Ed Zajkowski.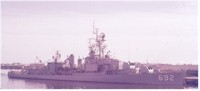 Circa 1961-1962 view of the Sumner in an unidentified location thanks to
Ed Zajkowski. If you recognize where this was taken please let us know.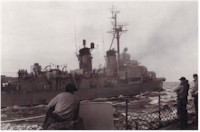 View from the Sumner during the Vietnam Deployment in 1967.
Thanks to Mitchell Malpass for sending this image to us.