U.S.S. Allen M. Sumner DD-692
Other 40's Photos
Inclining Tests at Federal Shipbuilding & Drydock
January 23 1944


Delivery to the Navy - Kearny, NJ to New York Navy Yard
January 25 1944



At Sea
March 26 1944

New York Navy Yard
May 1 1944

Overhaul at Hunters Point
February to April 1945

USS Killen (DD-593) close-up view of the ship's port quarter, taken at the Hunter's Point Navy Yard, San Francisco, California, following overhaul and battle damage repairs, 2 April 1945. Circles mark recent alterations to the ship. Note Killen's propeller guard, depth charge racks and "teardrop" depth charges. Ships in the background are USS Allen M. Sumner (DD-692) and USS Hughes (DD-410). Photograph from the Bureau of Ships Collection in the U.S. National Archives. Naval Historical Center Photo #: 19-N-84437.


Views of the Sumner pierside on April 6 1945, a week before all repairs were completed. The items circled in white are alterations made while she was at Hunters Point.

Sea trials on April 9 1945, 4 days before completing the overhaul

Sumner in San Francisco Bay after the application of the Measure 22 Camouflage Paint Scheme. This is following the battle damage repairs at Hunter's Point. These views have two different colorizing methods used in their production.
Sumner "colorized" photo from the collection of Lee Edward Stout and sent in by his son Morris. The arrow pointing to the sailor on the bow is Lee.

Sumner "colorized" photo from the collection of Walter Henry Schlueter, Jr. and sent in by his son Marc.
Photo by Navy Photographer Howard Hertzog taken in San Francisco Bay probably in 1945-1946.
Many thanks to Ed Hertzog of the WW2EPIC.COM website for letting us use this image.
If you have additional knowledge of this photograph, please contact us.


A post World War II view circa 1945-1947
thanks to Darryl Baker. Stored in higher resolution
so you can see the detail up-close.


The "Home Folks" first view of the Sumner Class

This picture appeared in the New York Times Nov 4, 1944 with the caption:
NEW 'SUPER-DESTROYER' ADDED TO AMERICAN FLEET
First photograph of the 2,200-ton Allen M. Sumner class of "super-destroyer." This new warship is so powerful that in World War I it would have been classed as a cruiser.

Naval Magazine Bangor, Washington
January 23, 1947
Photos thanks to Tracy White
Visit to Australia in 1947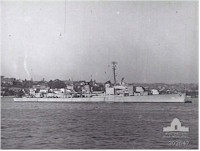 Thanks to Colin Benporath
SYDNEY, NSW. C.1947. STARBOARD SIDE VIEW OF THE DESTROYER USS ALLEN M SUMNER (DD-692). SHE RETAINS HER WORLD WAR 2 ARMAMENT AND SENSORS. A QUADRUPLE 40 MM BOFORS AA MOUNTING IS FITTED ON THE AFTER SUPERSTRUCTURE IN PLACE OF THE TORPEDO TUBES ORIGINALLY CARRIED, A MODIFICATION CARRIED OUT IN RESPONSE TO THE KAMIKAZE MENACE IN 1945. SC-4 RADAR IS MOUNTED AT THE HEAD OF THE FOREMAST WITH SG RADAR JUST BELOW. A MARK 12/MARK 22 FIRE CONTROL/HEIGHT FINDING RADAR COMBINATION IS MOUNTED ON THE MARK 37 DIRECTOR. (NAVAL HISTORICAL COLLECTION)
As she appeared in the late 1940's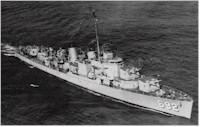 Thanks to Richard Vallery
A painting of a Sumner Class Destroyer from World War II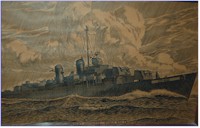 From the collection of Gilbert Roberts and sent in by his son Len.