U.S.S. Allen M. Sumner DD-692
Drone Anti-Submarine Helicopter
Gyrodyne QH-50c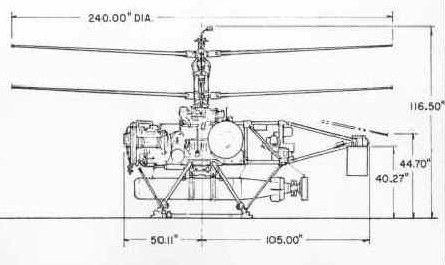 The Drone Anti-Submarine Helicopter, better known as DASH, was developed by Gyrodyne of St. James, New York, in the late 1950's and early 1960's. Originally built to deliver a single MK-17 Nuclear Depth bomb (with W 44 warhead) outside the kill-radius of the Soviet fast-attack submarines of the time and therefore not survive the resulting blast, the QH-50 DASH was originally built as "a single-shot weapon." After DASH was deployed, however, only then did the Navy learn of the expensive safety measures required to secure the MK-17/ W 44 weapon on-ship and the combination was dropped. Then, with a stroke of a pen, DASH was declared "re-usable" by the Navy and reverted to carrying dual MK-44 homing torpedoes.
During Sumner's FRAM II overhaul in Charleston in 1961-1962 the flight deck and hangar were installed but it was not until May 1966 in Norfolk that she finally received her two birds and became qualified to operate DASH. At first she was maintained by regular ratings such as Electronics Technician and Engineman to be followed in later years by Airedale ratings. Tail numbers of the QH-50c's that served aboard Sumner include 05-1526, 05-1729 and 05-1730, if you know of others please let us know. DASH was removed in March 1971 prior to the Sumner becoming a Naval Reserve training ship.
The following photographs are ALL of the DASH system as installed aboard the USS Allen M. Sumner (DD-692) and provide a good image of what it looked like on deck and in the air, along with views of how the crew really used this weapon system. If you have images of any of the DASH systems aboard Sumner that are not displayed please share them with us.
The DASH Hangar being readied for installation during FRAM II
at Charleston Navy Yard in 1962 thanks to Ed Zajkowski.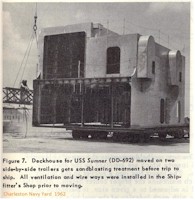 Like everything in the Navy, there is an extensive paperwork trail to be maintained. Hank Lunki sent us examples of this trail for the DASH. Clicking on the category will give you an example of that form as it was kept aboard the Sumner. The primary unit in these examples was DS-1730.
An addendum from Hank; "One other item to close the book on QH-50C #1730. After transfer off the Sumner the drone was eventually transferred to White Sands Missile Range where it was destroyed as a target during STINGER missile testing."
It is highly recommended that you also view the pages of Hank Lunki and Dolphus Burton for a good insight into the DASH aboard Sumner
Many thanks to George Aichele, John Boeckeler, Eric Bollin, Kelly Brown, Dolphus Burton, Bill Jones, Ed Kirner, Bill Ortz, Mike Raatjes, Tom Schwartz, Doug Seal, Dale Surber and Hank Lunki for saving these pieces of our history.