COMMANDER SEVENTH FLEET
TAKES PLEASURE IN COMMENDING

USS ALLEN M. SUMNER (DD-692)

for service as set forth in the following CITATION

"FOR OUTSTANDING PERFORMANCE WHILE IN DIRECT COMBAT WITH THE ENEMY OFF THE COAST OF NORTH VIETNAM DURING THE PERIODS 8 THROUGH 26 MAY AND 10 THROUGH 23 JUNE 1967. OPERATING IN HOSTILE WATERS AS A MEMBER OF A SPECIAL TASK UNIT INTERDICTING WATERBORNE LOGISTICS TRAFFIC, SUMNER DESTROYED OR HEAVILY DAMAGED NUMEROUS NORTH VIETNAMESE LOGISTICS TARGETS AND COASTAL DEFENSE SITES. COMING UNDER DIRECT HOSTILE FIRE ON SEVERAL OCCASIONS, SUMNER PERFORMED SKILLFULLY AND AGGRESSIVELY IN SUCH A MANNER AS TO INFLICT MAXIMUM DAMAGE ON THE ENEMY WHILE HERSELF AVOIDING DAMAGE. SUMNER'S PROFESSIONALISM AND RESOURCEFULNESS UPHELD THE HIGHEST TRADITIONS OF THE UNITED STATES NAVAL SERVICE."
John J. Hyland
Vice Admiral, U.S. Navy
Commander SEVENTH Fleet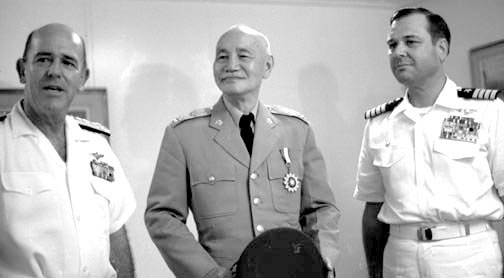 Seventh Fleet commander Vice Adm. John J. Hyland, left, and USS Enterprise commander Capt. James Holloway III, right,
greet President Chiang Kai-shek of the Republic of China off the coast of Taiwan, March 15, 1966
A sincere Thank You to Bill Moye who transcribed this citation for us