U.S.S. Allen M. Sumner DD-692
Traditional Fun Stuff
A shipmate who has previously crossed the Equator is called a Shellback and those who have not are Pollywogs. When the two cross the Equator together, a time honored tradition unfolds in which the Pollywog is initiated into the Royal Society by the Shellbacks. If you visit the Cruise Book and Photo pages you will see many examples of the initiation. The following documents are part of Ed Izzi, Jim O'Neil, Arne Schumacher, Dan Sullivan and Bill Babuka's collections of the initiation. Thanks to them for sharing their memories with us.
Another time honored tradition is the crossing of the International Date Line at the 180th meridian. Once you have crossed the Line you are a member of the Domain of the Golden Dragon. Below are Ed Izzi's card indicating where Sumner crossed the Line in 1967, Dan Sullivan's from 1945 and Jim O'Neil's (above) from 1945. The next row displays Pete Hart's Golden Dragon Certificate from 1967.
On May 7, 1947 the Sumner, as part of Task Force 38, crossed the Equator and the International Date Line at the same moment. Arne Schumacher's Shellback card displays this highlight and the reverse lists all the ships in the Task Force. Don't miss Arne's story of the initiation on his page in the Multimedia Section.
Domain of the Flying Dragon Certificates were also issued for this crossing and displayed here is one presented to Captain Edrington signed by the Squadron Commander, CAPT F. P. Luongo, Jr.
In 1953 the Sumner deployed for the Korean War and did a circumnavigation of the World. The following certificate was presented to Jeff Clevenger in honor of the voyage. It is signed by Captain O'Rourke. To learn more about these traditional Shellback awards, there is a website at http://www.internationalshellback.com that will give you an indepth report on the history and traditions.
Another very rare certificate is the "Bluenose" which is awarded to all hands who cross the Arctic Circle. The Sumner crossed into the land of ice on September 20, 1957 and shipmate Stu Scherr was awarded his certificate signed by Captain Beers and became a True and Trusty Brine Encrusted BLUENOSE.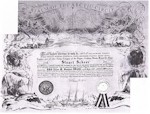 The wallet sized "Blue Nose" card from the collection of Ron Peloquin.
Be sure and view the following Photo Collections which include many images from these ceremonies
Eric Bollin
Kelly Brown
Al Payne
Arne Schumacher
Doug Seal
John Judd
George Aichele
Ed Eidt
Dennis Greene
Ben Caccia
Do you have souvenirs of the ship that you would be willing to share? Please let us know with an E-Mail today!