U.S.S. Allen M. Sumner DD-692
Northern Europe/Mediterranean - April to October 1969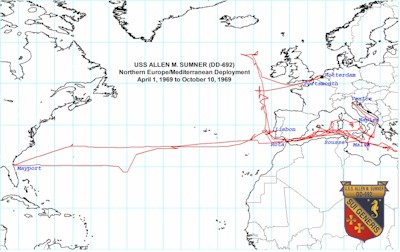 Track Chart of the entire 1969 Deployment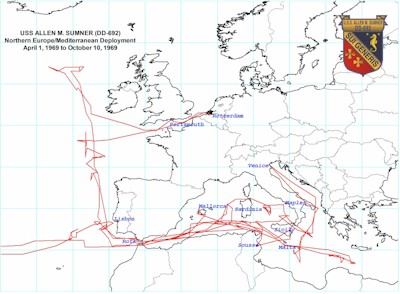 Up close view of the Northern Europe/Mediterranean track chart section of the 1969 Deployment
The Official Ship's Deck Log for 1969
Captain Meacham's letters home
George Casebeer's Photo Collection
Mike Raatjes's Photo Collection
Sumner departed April 1st on deployment for Lisbon, Portugal taking part in HUK exercises enroute. After departing Lisbon on 21 April Sumner participated in trilateral ASW operations with naval units of Spain and Portugal. Soon thereafter Sumner completed a second operational HUK for which she was nominated for a Unit Citation. On 14 May Sumner continued her journey to Portsmouth, England and joined in celebration and review of the 20th Anniversary of NATO. At the NATO Naval Review in May Her Majesty, Queen Elizabeth of England personally reviewed the over sixty ships including Sumner.
Sumner departed England on 17 May for Rotterdam, Netherlands in company with USS Wasp. From Rotterdam on 22 May she began the second part of her deployment with the Sixth Fleet, stopping enroute at Rota, Spain. After Rota Sumner visited Naples, Italy, 11 through 20 June. From Naples, she operated as rescue destroyer for the USS John F. Kennedy and assisted in rescuing a downed pilot. Sumner's next port-of-call was the liberty port of Venice, Italy where she stayed until 7 July. Following Venice Sumner operated with TF 60 highlighted with Exercise Mini-National Week on 22 and 23 July.
After visits to Porto Scudo, Italy and Catania, Sicily Sumner steamed to Sousse, Tunisia on 31 July where she held an Open House for over 6,000 people. On 14 August she arrived at Valletta, Malta. On 12 September Sumner entered Palma, Mallorca for her last liberty port of the deployment. At Pollensa Bay, Mallorca 27 September Sumner was relieved having completed her deployment and the next day headed for Mayport arriving on 10 October 1969.
Do you have any stories, the Cruise Book or memorabilia of the cruise? If you do, please let us know