U.S.S. Allen M. Sumner DD-692
The Battle of Ormoc Bay
December 2-3, 1944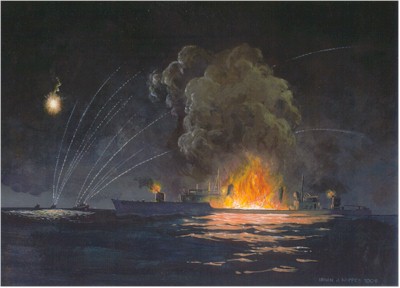 Painting by Irwin J. "Pete" Kappes
December 2-3, 1944 Phase, Battle of Ormoc Bay, Leyte, Philippines
USS COOPER (DD-695), USS ALLEN M. SUMNER (DD-692) and USS MOALE (DD-693) close in on sinking Japanese destroyer IJN KUWA minutes before the torpedoing of the USS COOPER by the enemy destroyer IJN TAKE. Mr. Kappes was a Radarman aboard the MOALE during the battle and painted this scene in 2006.
As Irwin J. Kappes wrote, the Battle of Ormoc Bay was "One of the fiercest - and most pivotal - battles of the Pacific War is also one of the least known. It was, in fact the only naval engagement of the war in which the enemy unleashed the full fury of shore, sea-based, air, and undersea weapons all in one short, desperate action."
In the Official Reports Captain Sampson said, "I consider the performance of all officers and the entire crew outstanding. This engagement was the first real fight in which this vessel has participated. A comparatively green crew weathered a four hour air attack while under fire of shore batteries, and delivered destructive gun fire which sank two enemy ships and destroyed eight planes."
First person account of the battle by Sumner Crewman SF3c Eugene G. Anderson
First person account of the battle by Cooper Crewman Albert A. Masulis
Command level story of the battle by Moale Crewman Irwin J. Kappes
A New Look at the Battle for Leyte Gulf by Irwin J. Kappes
A sketch of the Battle taken from all the Action Reports
The Sumner's Official Action Report
The Moale's Official Action Report
The Cooper's Official Action Report
The Commander Destroyer Division ONE-TWENTY Action Report

The Official TBS (talk between ships) Tactical Radio Logs
Call Signs: Caboose is Sumner, Gelding is Cooper, Truant is Moale and entries beginning with OFF are CDD 120

Sumner
1628-1740

1808-2104
2107-2320
2335-0158
0200-0531
0536-0800
Moale
2010-2326
2326-0019
0022-0234
0234-0520
0520-0831
The damage to the hull caused by the close bomb detonation just before entering the Bay
as it appeared during the overhaul at Hunters Point on February 14, 1945.

NAVSHIPS A-3 (420) SUMMARY OF WAR DAMAGE
of 1 June 1945

Report cover page
Page 51 entry covering the Sumner

veterans of the Battle of Ormoc Bay (SUMNER, MOALE, COOPER and DesDiv 120).
There is an active reunion association for survivors of the battle. Contact:
Glen Rhodes
Box G414 High Street
Mount Orab, OH 45154