U.S.S. Allen M. Sumner DD-692
Mediterranean - October 1965 to March 1966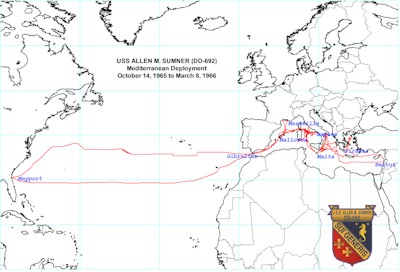 Track Chart of the entire 1965-1966 Deployment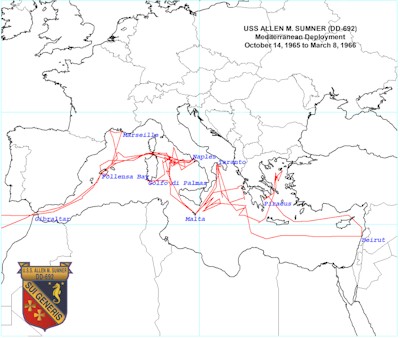 Up close view of the Mediterranean track chart section of the 1965-1966 Deployment
Official Ship's Deck Log for 1965
Official Ship's Deck Log for 1966
Dennis Greene's Photo Collection
Chuck Morrell's Photo Collection
Bob Hibbert's Memorabila Collection
The Allen M. Sumner got underway from Mayport on the morning of October 14th for the Mediterranean in company with USS Bigelow (DD-942), USS Forrest B. Royal (DD-872), USS Charles R. Ware (DD-865), USS McCaffery (DD-860), USS King (DDG-3), USS Conyngham (DDG-17), USS Yarnell (DLG-17) and USS William C. Lawe (DD-763) as Task Group 25.6. During the Atlantic crossing she participated in Operation ECMEX 5. On the 26th the Group anchored in Pollensa Bay, Spain for turnover to the Sixth Fleet. On the 27th she departed Pollensa Bay in company with the USS Boston (CAG-1) for operations while proceeding to Naples where she arrived on the 29th.
Remaining in Naples until November 2nd she returned to sea for flight operations with the USS Franklin D. Roosevelt (CVA-42). These operations continued until the 7th when Sumner anchored in Golfo di Palmas, Sardinia returning to sea the next day. This at sea period included gunfire training and ASW exercises with the USS Carp (SS-338). The 692 was again in port on the 12th anchoring in Marseilles, France remaining until the 18th when she moved down the coast to Sete, France arriving the same day. The 22nd found Sumner again at sea for an overnight trip back to Pollensa Bay. Underway again for operations on the 25th with the USS Forrestal (CVA-59) she remained at sea until arriving in Valetta, Malta on December 4th.
On December 13th Sumner departed Valetta and sailed for Beirut, Lebanon in company with the Boston. She arrived in Beirut on the 20th over Christmas and departed on the 27th. Anchoring in Pireaus, Greece on the 29th she remained in the Athens area over the New Year's returning to sea on January 6th.
At sea again with the Forrestal for operations lasting for 10 days the anchor was let go in Taranto, Italy on the 16th. On the 24th she proceeded independently for Valetta where she arrived the next day. Alongside the USS Cadmus (AR-14) for tender availability following damage to the port propellor. February 3rd found her again at sea enroute to Naples entering port on the 5th. Again returning to sea with the bound for Palma, Mallorca on the 12th. After several days of operations she moored alongside the McCaffery on the 15th. The Division began heading West on the 22nd arriving in Gibraltar on the 24th. The next afternoon the Division rejoined the Atlantic Fleet and headed for Mayport and home. The deployment was complete on March 8th as she moored at Berth D-2 Mayport Naval Station.
Do you have any stories or memorabilia of the cruise? If you do please share it with us.